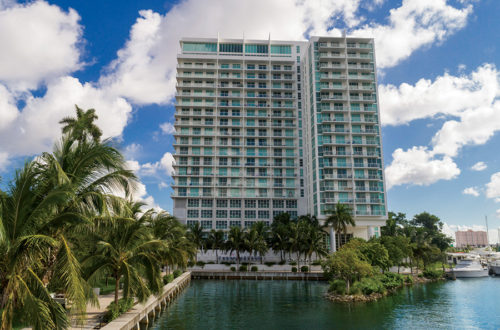 18 JUN – BISNOW SOUTH FLORIDA | DEIRDRA FUNCHEON
The Thames, The Seine, And…The Miami River?
Lissette Calderon was thinking of London and Paris after she graduated from Wharton, finished an investment banking stint in New York and came back to her hometown of Miami in the late 1990s.
"All big cities were started around a river," Calderon said. "Having traveled the world — New York, Chicago — they all have this amazing artery in the urban core. All good metropolises have this riverfront."
The five and a half-mile-long Miami River, however, had long been neglected. Although indigenous people had built structures near the river mouth and the city of Miami was founded on its north bank, by the 1950s, it had become a dumping ground for raw sewage. In the following decades, it was mostly a working river, hosting marine repair shops and cargo ships that serviced the Caribbean.
Calderon craved a New York-style urban living experience that a young professional like herself could afford, and she believed others did, too. That led to her first development, Neo Lofts, which she decided to put along the river — which at the time, looked a lot more like the Cuyahoga than the Seine or the Thames. But Calderon's hunch was right, and her condo project sold out in 18 months.
More condos followed — Neo Vertika, Wind by Neo — and Calderon's Neology Life Development Group claims to have built more units along the Miami River than any other developer. It is now in the process of transforming the 20-story River Oaks Marina and Tower apartment complex, on the south side of the river, into a more luxurious product, rebranded as Pier 19. Calderon bought the 199-unit tower last fall for $61M. Rents run from $1,700 to $3,200. Early in the process, it is already receiving strong interest.
"We've got a waitlist for the [boat] slips," Calderon said.
Calderon will be one of the featured speakers at Bisnow's May 9 event on Miami's Expanding Urban Core.
According to the Miami River Commission, the river is home to 25 boatyards and marinas. Fifty-seven residential buildings have gone up since 2000, bringing 15,369 units. Another 6,757 already-approved residential units are on the way.
At the rivermouth, beside the shimmering Biscayne Bay and the Atlantic Ocean, the Aston Martin Residences are being constructed on 1.25 acres that sold for a record price of $125M in 2014. The 391 condo units, by developer G&G (controlled by an Argentine supermarket mogul) start at $600K apiece and go up to $50M. From there, the river stretches to a canal near Miami International Airport.
It's not just residential: There are five hotels and 21 restaurants operating along the river, including trendy spots like Kiki on the River, Seaspice, Crust and Pato Negro (inside of Neo Lofts). Space for 23 more restaurants is planned. The Wharf, an open air event space, hosts pop-ups, happy hours and yoga. Andrew Hellinger's Urban X Group will bring a missing piece of the puzzle — everyday retail — with its River Landing Shops & Residences, which in addition to 528 apartments will host a Publix, a TJ Maxx, West Marine, restaurants and more.
Habitat Group founder Santiago Vanegas is building an eight-story, 34-unit rental project called East River Living that is scheduled to finish in February 2020. At 39 Northwest Seventh Ave., it is technically in Little Havana and two blocks away from the river, but benefiting from the improvements along the riverbanks.
Vanegas said his units — studios to two-bedrooms, priced from $1,800 to $2,100 per month, will target people who work downtown or Brickell — people who are middle class but aspirational.
"The river right now is very prime," he said. "Almost high-end."
He predicts that anywhere along the river west to about 80th Avenue will be see more development in the coming years.
Developer Camilo Miguel Jr., whose Mast Capital had been active on Miami Beach and in Brickell, came to the river last year when he spent $26M to take over a site at 1001 Northwest Seventh St., where a plan for some 1,000 units had fallen through.
"We thought that was overbearing. It would have been really strange for that to be rising out of the ground here," Miguel said.
Miguel's team scaled the plans back to an eight-story project with 688 rental units, to be built in two phases. Miami River Walk will have 11K SF of amenities and open green space. Miguel said he was hopeful his project could spur even more multifamily in the area.
"I think that this district is underserved with housing," Miguel said.
Hellinger has long said the same thing, pointing out that thousands of the medical professionals working at a cluster of hospitals on the river's north bank must commute.
For more than a decade, authorities have required that new developments be designed to connect to the Miami River Greenway, a walking/bike path with lighting, historic markers and art installations. Some six and a half miles have been constructed so far with about three and a half miles remaining.
"It's imposing costs on our project, but collectively, it's going to be a way better experience for everybody," Miguel said. "When it's done, everyone will say, 'This was the right thing to do.'"
One thing that is still missing, though, is a cohesive ferry system for crisscrossing or traveling up and down the river. A private water taxi exists, but service is infrequent and stays near the river mouth and bay. Both Hellinger and Miguel intend to set up boat transportation that would be available to their project residents. Calderon said the idea for something more comprehensive has been discussed among developers, but requires a critical mass before it could take off.
As Brickell and downtown fill in and become more expensive, "between Flagler and Calle Ocho, along the urban corridor, that's where all this new urbanism is going to be happening soon."
Calderon said she still owns her condo at Neo Lofts and envisions moving moving into it one day when she is an empty nester — if her kids don't fight her for it.
These days, when people talk about her company and the river, "We're no longer a 'pioneer,'" she said. "Now, it's established."
Learn more about activity along the Miami River at Bisnow's May 9 event on Miami's Expanding Urban Core.