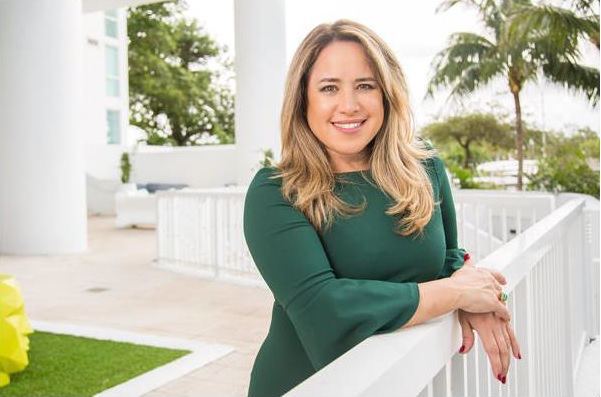 17 DEC – THE REAL DEAL | INA CORDLE
The Closing: Lissette Calderon
Douglas Elliman releases its magazine, Coral Gables Trusts host top real estate officials and more
Though developer Lissette Calderon has done two stints at the Related Group, where she recently served as the first female president of international and strategic projects, she says her passion has always been as an entrepreneur. Starting in 2002, she pioneered condo development along the Miami River, building Neo Lofts, Neo Vertika and Wind by Neo. Now, with the backing of a family wealth office based in Europe, which she declined to name, Calderon has returned to her roots on the riverfront and is shifting to rentals. She is currently transforming Pier 19 Residences & Marina into a luxury apartment tower, with plans brewing for more urban core rental projects in Miami and other cities.
DOB: May 20, 1974
Hometown: Miami
Lives in: Coral Gables
Family: husband and three daughters, ages 11, 12, 13
What was your childhood like? I was born in Miami and my first home was on the banks of the Miami River where the Miami Circle now stands, so you can literally say that I was born on the Miami River. I like to think that although I was not rich, I had everything that mattered. I had the love of my parents. I was the first person in my family to earn a college degree.
What was your first job? Growing up, my father was in real estate development. It was always so much fun to go to work with him. I'd be like, "What is stucco?" and "What is a support column?" It was an incredible apprenticeship. Unfortunately, at the age of 17, while I was a senior in high school, my father passed away in an accident, which was probably the most transformative moment in my life. That was truly the moment I can point to where I went from a child to an adult … Once I graduated from Wharton, I did what every good Wharton person that is very good with numbers does: I went on to be an investment banker on Wall Street. So I had this urban experience of living in New York and I knew I was great with numbers, but I knew I was never going to be great at my career because I didn't love what I did. My heart was in real estate development back in Miami.
How did you get into real estate professionally? I had a mentor who is still today an incredible friend, Adolfo Henriques. At the time, he was the head of NationsBank. I got to work next to him [as a summer intern]. When I was coming back to Miami, Adolfo, being who Adolfo is, put in several calls and had me interview with real estate developers that today are still the top in the game. I ended up at the time working with Manny Medina at Terremark, and that is when he was segueing into technology. From there, I went on to join Related.
What was it like working with Jorge Pérez? He is absolutely a genius, and I loved the intensity and passion that he brings. The one thing about Jorge is that he doesn't expect anything from you that he doesn't expect from himself.
What was the most valuable thing he said to you? When I told Jorge that I was thinking of going off on my own, he gave me the nicest compliment anyone could have given me at the time: "When I see you, I see myself at 25. Go ahead and do it."
Why did you first strike out on your own as a developer? I don't think there was ever a doubt I wouldn't. Entrepreneurship is very much a part of who I am. Whether I succeed or fail, it's on my terms.
Why did you choose the Miami River for your developments? I knew there was a market for housing young professionals who needed somewhere to live, and unfortunately they were being priced out of Brickell or Miami Beach at the time.
The Miami River was derelict, and there were just abandoned warehouses and cargo ships. I was [thinking] my goodness, this is prime, beautiful real estate.
Think about it: The city of Miami was one of the few cities founded by a woman. Julia Tuttle founded this city on the banks of the Miami River, and here it was 110 years later. I was saying, can someone finish what this lady started? I just needed one bank to believe in me — 10 could say I was absolutely crazy. One bank did, and Neo Lofts was born. Before we even got off the ground, the building was completely sold out.
You're now doing another project on the Miami River, Pier 19 Residences & Marina — why rentals now? In condos you build something. In many ways it's like a baby. You raise it, you create it, and at 18 you kind of hand it off and it grows its own wings. A rental building is this baby that you get to keep forever because you don't sell it. You get to be part of the soul of the river for much longer. When I think of what I want my children to remember me for, it's the good things you did for the city and the legacy you've left on these buildings.
What is the biggest change in the market you have had to adapt to? Now the biggest challenge is the pricing, because you are your own worst competition. I wish back then I had bought up the entire north and south sides of the river and I had land-banked 50 acres. It would be very different than now, since everyone realizes the potential of the river.
How did you meet your husband? In Coconut Grove at two in the morning. I'd like to say it was at church or something more appropriate, but it was at Señor Frog's. And it's where he proposed seven years later.
What is something people don't know about you? I have a black belt in taekwondo.