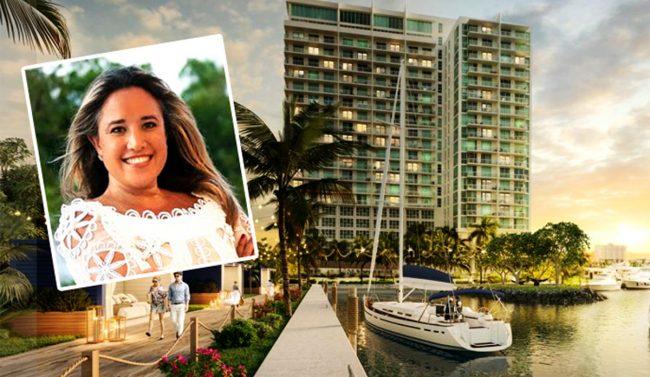 08 OCT

– THE REAL DEAL
| INA CORDLE
Lissette Calderon will return Miami River project into luxury rental tower and marina
In a giant breakthrough for the FiDi shopping scene, Spanish sportswear and accessories chain Zara is opening a three-level store at 222 Broadway, across the street from St. Paul's Chapel and the new Fulton Transit Center.
Lissette Calderon plans to turn her recently-purchased waterfront tower into luxury rentals after a major renovation, The Real Deal has learned.
The new property was just renamed Pier 19 Residences & Marina. Formerly called River Oaks Tower & Marina, the 21-story building on the Miami River has 199 apartments at 1951 Northwest South River Drive.
A year in the works, Calderon's Neology Life paid $61 million for the tower in an offmarket deal in mid-September. The purchase marked her return to the Miami River District, where she began developing more than 15 years ago.
Calderon's silent business partner is a family wealth office based in Europe, but she declined to disclose specifics or the percentage ownership. Voya, in partnership with Berkadia, financed Neology Life's purchase with a $45.75 million, three-year bridge loan.
She called River Oaks Tower & Marina an "underutilized and undervalued" property. About half the units were rented out as short-term vacation rentals, and the grounds of the building were overgrown, obstructing the vista.
Calderon will spend "several million dollars" to revamp the 2.5-acre property, adding a private 10-slip marina, three large cabanas for residents' use, and creating all new common areas. There will be new landscaping, along with improvements to the pool and hot tub.
"We're reimagining the project for the needs and expectations of today's urbanites," she said.
The building will have bicycle and paddleboard storage and a shared ride drop-off and pick-up area, in addition to its 370-space garage. The apartments already have floor-toceiling windows, glas s balcony railings, granite countertops, European cabinetry and stainless steel appliances, so they will only need minor renovations like new light fixtures, Calderon said.
The lobby, clubroom and management office will be gutted and turned into a multipurpose area with a large living room. The fitness center will be updated as a wellness center and the theater will have an adjacent sports parlor. Alfonso Jurado is the architect.
Completed in 2011, the building was designed to be a condominium before it succumbed to foreclosure during the downturn. A developer bought the property from the financing firm, iStar, finished the last details and operated it as rentals for seven years before selling it to Calderon. Property records show the seller as AP SC River Oaks LLC, a company led by Saul Campanella and Timothy Richards.
Calderon just hired Miami Real Estate Group, led by Andres Asion, to handle leasing. The building is 80 percent leased, with prices starting at $1,700 for a one-bedroom and $2,100 for a two-bedroom, Asion said. Rental rates will rise when the project's renovations are completed by June 2019.
In all, the building has 77 one-bedroom one-bathroom apartments; 90 two-bedroom, twobathrooms; 32 three-bedroom, two-bathroom units. Included are eight two-story loft penthouses.
For Calderon, the project is also something of a return to her roots as an entrepreneurial developer.
Starting in 2002, she began developing projects along the river, including Neo Lofts, Neo Vertika and Wind by Neo.
"When nobody saw the Miami River as the valuable waterfront that it is today," she said, "I knew there was opportunity there."