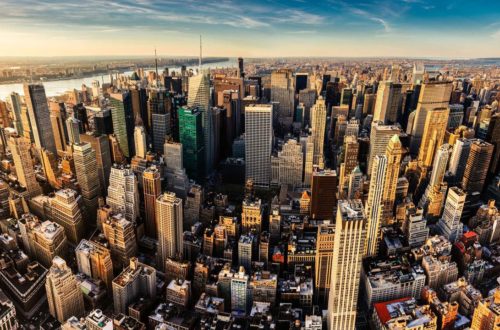 22 MAR – MANSION GLOBAL – ALANNA SCHUBACH
High-Income Americans Who Aren't Prepared for a Long-Term Investment Should Consider Renting Instead
Those willing to hold on to a home for a few years, however, will likely see a pay off
In 2019, prospective buyers in the U.S. might want to consider renting instead.
In fact, it's cheaper to rent a three-bedroom property than to buy one in 59% of U.S. markets, according to a recent study from real estate data firm Attom Data Solutions.
And many Americans—including wealthy ones—are opting to do just that. From 2007 to 2017, the number of renters earning $150,000 or more increased by 175%, while the number of high-income homeowners went up by 67%.
There are signs of global luxury property markets slowing, but this shift from buying to renting among the wealthy may have more to do with lifestyle factors than with concerns about poor returns on investment in the coming years.
"The housing market is well-positioned for further growth," said Lawrence Yun, chief economist with the National Association of Realtors. "Even with modest price gains in the upcoming years, when prices rise on high-priced homes, there are additional equity gains."
Seeing those gains means waiting, though, and for high-income Americans who live peripatetic lifestyles, work remotely or plan to change jobs, or are interested in exploring a range of locations before they settle down, renting is the better option.
"We've done analyses in the past in Los Angeles that showed if you've owned anywhere in the city for any seven-year period of time, you've always made money," said Billy Rose, co-founder of The Agency. "But if you're not sure you're in the right neighborhood, or you won't be there at least three years for any number of reasons, then it becomes more of a question mark whether it's worth buying instead of renting."
Renting, real estate analysts say, is increasingly a good option for millennials who work remotely or don't plan to stick with the same job for long; empty nesters looking to downsize; and those who intend to buy but want to test-drive a city or neighborhood first. And developers are responding by building amenity-packed rental properties that offer renters the same luxuries as they'd find in high-end condos.
For others, though, buying remains a smart choice.
"Owning a home is an investment that can give you a kind of personal use and satisfaction you can't get from a lease," Mr. Rose said. "There are certain things you won't do with a lease that you would do with a home."
Finances and Lifestyle
Some high-income individuals may find that though they can afford to rent in high style, buying at the same level of luxury is still out of reach.
"There are buyers who were hoping to get something in a certain price point for less money, but it's not as bargain basement as they thought," said Tracie Golding, a broker with Stribling & Associates in New York. "People who thought they were going to get a $9 million apartment for $7 million and realized they won't are deciding just to rent."
Such renters may have the income for a pricey rental, but not the liquid assets to buy in the multi-million dollar range.
This cohort of renters tends to skew younger, and in addition to finances, they may also be motivated to rent due to a less settled lifestyle.
"Many of the younger people with high incomes like to rent. The economy is so integrated that they can live in San Francisco but work for companies based in London or Singapore," Mr. Yun said. "They need mobility and flexibility."
Almost 75% of millennial and Generation Z managers say they have employees who work remotely, and this flexibility entices younger professionals to move more frequently than their older counterparts. This, in turn, often means renting is the more sensible choice.
"Certainly, the usual reason to rent is that people can't afford the down payment, but now folks are opting to rent temporarily or permanently [due to other factors]," said Nitin Motwani, a developer behind the 27-acre, mixed-use development Miami Worldcenter. "Young professionals want to rent for the flexibility. With a more transient world, people may not be sure how long they'll be in a destination."
Older Americans, too, should consider renting if they are thinking of downsizing. This is already a significant trend: RentCafe found that the percentage of renters over 60 increased by 43% over the past decade, and attributes the change in part to empty nesters seeking greater flexibility and convenience.
"People that are downsizing are selling their homes but don't want to get another long-term home, especially if they don't know where their kids are going to be," said Lissette Calderon, president and founder of Neology Life Development Group in Miami. "Renting is a nice bridge for them for a while."
Test-Driving a New Area
For both younger and older Americans, renting is a smart way to get a sense of a new city or neighborhood before making a commitment.
"Renting gives people the ability to appreciate how good a neighborhood is. They have the flexibility to test drive it," Mr. Motwani said. "They can figure out where they want to live and the right kind of building for them. We used to see people do that for a year, but now they're staying longer and just enjoying renting."
In addition to wanting to spare themselves some of the hassles of homeownership, high-income Americans may also be dissuaded from buying by concerns about changes in the tax code enacted last year, which in states like New York with high local income taxes could be particularly onerous.
In cities like New York, moreover, the local tipping point—the point at which owning a home becomes more cost-effective than renting—can amount to decades, depending on the neighborhood.
For those who aren't sure they want to make a multi-year commitment to a neighborhood, then, renting becomes an attractive option.
"Moving to a new city, people want to test the waters of neighborhoods, so it makes sense to get the feel for it before you decide to put down permanent roots," Ms. Calderon said.

Developers are making it increasingly comfortable to continue renting, given the conveniences that come with leasing in an amenity-packed development.

"Often times, you do the math, and with the capital you have to put down, it makes more sense to rent," Ms. Calderon said.

Plus, there are practicalities to consider. "If you're an owner in a foreign country and your dishwasher breaks down, you have to wait a week to get it fixed. [In a high-end rental], the issue is addressed when you put in a work order, plus you have the upscale amenities."
When it Still Makes Sense to Buy
Eventually, even for young people on the move test driving different locations, settling down is the norm.
"The long-term pattern has shown that once people reach a certain age, they like to have a secure home base," Mr. Yun said. "We may still see that [high income renters] want to settle down eventually."
More: Two Australian Cities That Are Defying the Country's Housing Downturn
And now, some experts argue, is the perfect time to buy. Falling mortgage interest rates and the softening of luxury markets in many cities are enticing wealthy buyers to shop for high-end homes.
"Now couldn't be a better time for someone to buy," Ms. Golding said. "Buyers can negotiate, and banks want brokers to recommend high net worth individuals to them and are promising to match the best rate offered, especially on resales."
And for those prepared to make a commitment of several years, the investment is very likely to pay off if it's in the right location.
"If it's for a longer period, you're going to get appreciation. Even if you bought a week before the Lehman crash in 2008, if you owned for seven years, you still made money," Mr. Rose said of property owners in L.A.
An even more compelling reason to buy is if you come across a property that is unique for its architecture or design.
Such a home may be worth securing, because it doesn't come on the market often, Mr. Rose said. In comparison, he added, "paying rent is like throwing money away."