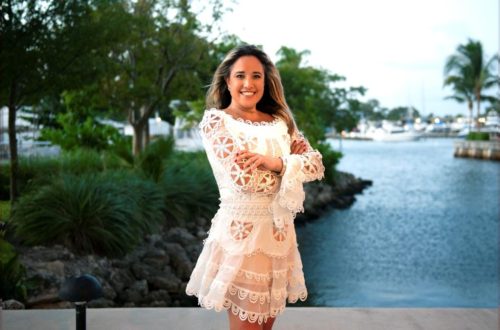 20 MAR – MIAMI HERALD | JANE WOOLDRIDGE
Developer: Built-in contingencies will help with post-coronavirus project schedules
Measures to contain the spread of COVID-19 are shifting by the day — and so are responses by investors, companies and buyers. To track the impact in real-time, RE|source Miami is asking real estate professionals in various sectors to give us a report on what they are seeing.
Today, we hear from developer Lissette Calderon, CEO of Neology Life Development Group, responsible for 1,500 residential units on the Miami River. She is currently building a rental project Allapattah, No. 17 Residences Allapattah.
Q: As the leader of Neology Life Development Group, what measures are putting in place to protect your employees?
Following guidelines from the Centers for Disease Control and Prevention (CDC) and other governmental agencies, our offices closed to the general public effective March 16. All in person meetings whether external or internal were also moved to virtual meetings to keep the recommended preventive social distancing. Lastly, we shifted as an organization to the use of remote technologies, allowing our teams to work from home without causing interruption to our business operations.
While Neology's development, leasing and property management teams thrive on daily interactions and collaboration, we know that everyone has to play a part to overcome the coronavirus pandemic our country faces. We have the technology infrastructure and training in place to work remotely and we were able to quickly adapt to this new normal for the time being.
I'm spending numerous hours on the phone every morning providing our teams with direction to ensure we are moving initiatives forward in this constantly changing environment. I'm also having in-depth discussions with our leadership team about potential challenges we could face as we continue to prepare and make daily decisions to protect our business and our team. I consider our Neology team family and my priority is to provide the support and confidence they need to take care of their families and to get the job done.
Q: With your current project underway in Allapattah, are you experiencing any delays in the construction given the coronavirus outbreak?
The construction of our rental residential project, No. 17 Residences Allapattah, is moving forward and we are also advancing our other projects in the neighborhood. Construction on No. 17 Residences broke ground in Allapattah in October 2019 and the project has already surpassed the 10th floor of the 14-story building.
Our team is having daily communication with our general contractor to ensure the Neology development team and workers on the job site are taking proactive measures, including keeping surfaces clean, wearing gloves and protective gear to minimize contact. The building's structure is open as we are still working on the shell, the trailers are limited to essential personnel that must be on site, and they are practicing social distancing. Any opportunity for virtual meetings, whether at the corporate office or at project sites, are being exercised.
Should the local or state government decide that construction projects need to reduce the number of workers on each shift or halt construction to help contain the spreading of the coronavirus pandemic, we are prepared to follow those measures to protect our community. In any construction project of this size and scope, there is a contingency built in the schedule for unforeseen events, which typically apply to storms or hurricanes. If our No. 17 Residences project comes to a temporary pause, we will be prepared to resume work on the job site as soon as it is safe and prudent to do.
Q: Your rental property Pier 19 has close to 200 units. How are you managing the property and helping to protect residents during this time?
In the Miami River, we own, lease and manage Pier 19 Residences & Marina, a 199-unit tower facing the riverfront and Miami skyline. From day one, we have been prioritizing the health and well-being of our community, including our residents and property management staff. Our onsite management office is proceeding with normal operation, but like our corporate office, it is closed to the general public.
Although our residents have grown accustomed to the community environment we foster, during this time we are encouraging our residents to reach out electronically or by phone. Our janitorial crews are deep cleaning and disinfecting all surfaces more often, especially frequently touched areas such as elevators and doors. We've placed additional sanitizing wipe stands throughout and our maintenance personnel is limited to completing only emergency work orders to minimize contact for everyone's safety.
Leasing at Pier 19 is still open for business. While the leasing office is practicing social distancing, future residents can lease remotely. The building is offering virtual tours, online applications and electronic payments for applications and deposits.
To help protect our Pier 19 residents, we've also taken additional measures this week including closing the fitness center, limiting access to common areas to residents exclusively at set hours and not allowing group gatherings both indoor and outdoor. All deliveries now must be picked up by residents outside of the building's entrance. Our management team has also offered assistance to residents who are immunocompromised due to age or illness, such as picking up their deliveries or medications.
We've also put a hold on all resident events or private parties until further notice to help ensure we're doing our part to protect each other, our families and broader community.
Q: From where you sit now, what do you expect to be the greatest business challenges in the coming weeks, and how long do you think it might be before the fears ease?
The fears I believe are two-fold. The first is logistically. Although companies are moving to a remote working model, there are inefficiencies associated with the disruption, learning curve and ramp up to operate remotely. Secondly, the markets don't like uncertainty, and we are living through an unprecedented time. Uncertainty is definitely a challenge.
I don't think any of us have experienced something like this in our lifetime, making it hard to predict how long it will last. I leave that determination to the CDC experts. That said, our South Florida community is used to preparing for emergencies such as hurricanes, which I believe has put our region in a better position to activate emergency plans as we prepare our families and our businesses to deal with the threat of COVID-19.
Q: What do you think will be the greatest opportunities in the next few months?
The coronavirus crisis has forced everyone to stop, be present and enjoy the simple things, including spending quality time with our families. We may not be able to dine at a restaurant, but we can order take out from a local restaurant and enjoy dinner in the backyard. We may not be able to see "Hamilton" at the Arsht Center, but are having a great time binge-watching Netflix the living room as a family. My husband and I may not be able to go out with friends, but we are taking advantage of the recommended social distancing and taking sunset strolls, just us two. Pets are probably benefiting the most because they have their humans 24 hours a day and are enjoying more daily walks than ever before.
When business activities normalize, which they will, we're going to have a greater appreciation for the small things like office birthdays, Friday lunches, small talk in the kitchen and Happy Hours. For the most part, humans are social by nature, and this temporary quarantine has given us a greater appreciation for our corporate camaraderie.
Additionally, as we navigate these uncertain times, there is the ability to lean into existing relationships to find opportunities. I always remember a saying my mom has told me: Mar revuelto, ganancia de pescador. — in turbulent waters, it's a perfect time for a fisherman — and I believe this experience will lead to new opportunities.
It's also a time to show our employees that we mean it when we say we are all family. Many of them are juggling taking care of their families while meeting job responsibilities, and I believe supporting them to do both will pay off with their loyalty and commitment over the long run. Once this storm passes, as a result of our shared values and commitment to our team, we will be in an even better position for long term success.