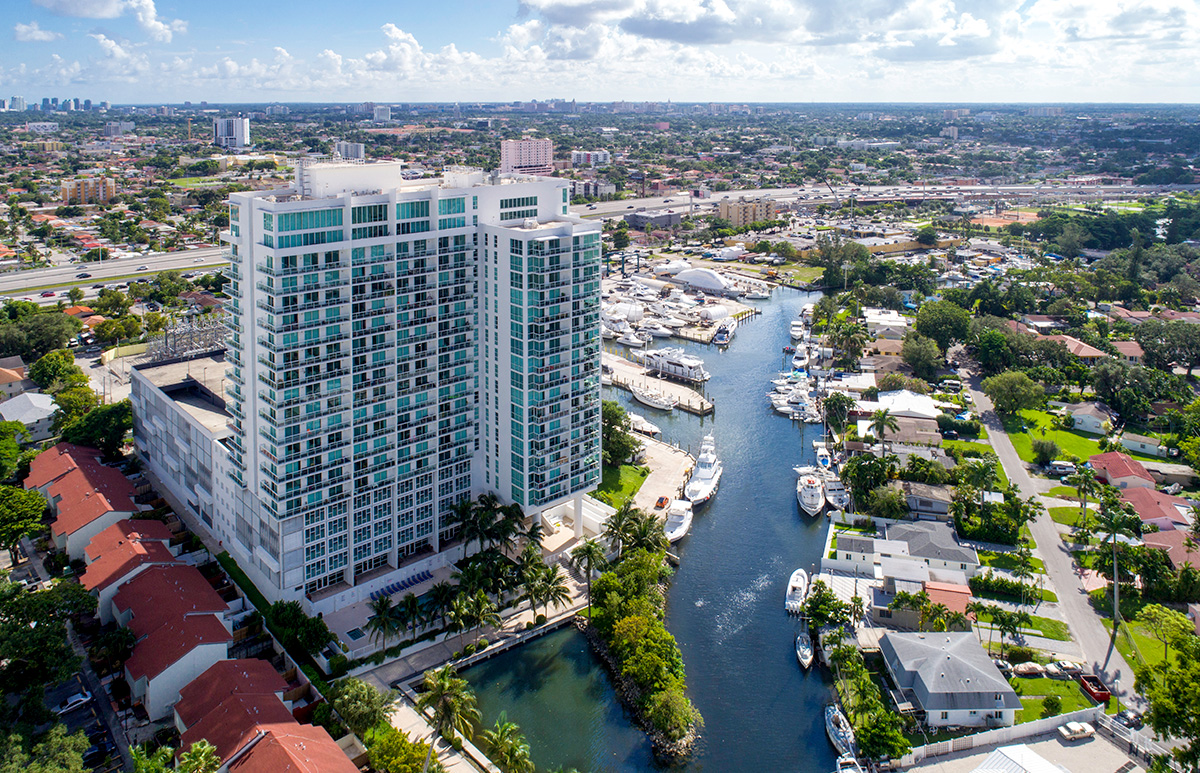 23 OCT

– DAILY BUSINESS REVIEW
| LIDIA DINKOVA
Berkadia plays role in pioneer Miami River developer Lissette Calderon's return to area
In a giant breakthrough for the FiDi shopping scene, Spanish sportswear and accessories chain Zara is opening a three-level store at 222 Broadway, across the street from St. Paul's Chapel and the new Fulton Transit Center.
Miami River District development pioneer Lissette Calderon has come back to the neighborhood's real estate market with help from mortgage broker Berkadia.
Calderon bought the 413,875-square-foot, 20-story, 199-unit River Oaks Marina & Tower apartment building at 1951 NW South River Drive for $61 million, with 75 percent of the cost covered by a Berkadia-secured loan.
Berkadia senior managing director Charles Foschini and managing director Christopher Apone in Miami closed on the $45.75 million acquisition financing from correspondent life insurance company Voya.
Calderon plans a major revamp — including a new marina at the riverfront property where residents can dock their boats, poolside cabanas and unit improvements — that promises to turn the property into a luxury asset. The re-branding includes a new name: Pier 19 Residences & Marina.
The property so far hasn't been top quality asset in part because corporations controlled a block of the units, subleasing them as short-term rentals, Foschini said.
"That is not in concert with the expectations of a renter in a Class A environment today," Foschini said.
At the same time, the property is in a way a rare find. It's on the waterfront in the booming Miami River District that's said to be attracting residential demand from workers in the nearby Health District.
It's hard to find a centrally located asset that offer an opportunity for growth, Foschini said.
"From the lender's perspective, it's very difficult today to find an urban core property of any asset class that's not fully leased and running in its best condition. The opportunity here was to provide a bridge loan to create a high-class infill environment without actually having to build the property from the ground-up," he said.
This is a three-year, floating rate loan that allows two one-year extensions. Interest will be charged only during the initial three-year term.
The loan will cover some of the renovations, Foschini said. Upgrades will be done to the lobby, indoor and outdoor gyms, cafe, movie theater and conference room.
Pier 19 will have one to three-bedroom units and two-story penthouse lofts with floor-toceiling windows. The rents will start at $1,600 a month, which could be more than the minimum rent now.
A one bedroom is $1,335, according to apartment search website Rent Cafe, part of Yardi. A two bedroom is listed at $1,700 and a three-bedroom at $2,350.
"The new owner has substantial upgrades planned in terms of beautifying the asset but more importantly has aggressively moved to secure high-quality tenants and create an incredibly special residential environment," Foschini said.
For her part, Calderon is a trailblazer on two fronts. Not only was she one of the first developers 15 years ago to build residential along the river, but Calderon also is well-known and accomplished in the generally male-dominated Miami real estate realm.
Her previous projects near the river include Neo Lofts, 10 SW South River Drive, and Neo Vertika, 690 SW First Court.
She then pursued other endeavors, including working for The Related Group, where she led the International and Strategic Projects Division.
Now through her newly founded firm, Neology Life Development Group, she is tapping into neighborhoods that have hidden potential, starting with her Pier 19 project.
"Our mission at Neology Life is to unlock value in emerging neighborhoods," Calderon in part said in a media release.
The sale, which breaks down to $145 per square foot and $306,533 per unit, was done in an off-market transaction.